Do you have a flat roof that is experiencing pooling of water? Is an area of your membrane roof sunken in and holding water?
Ponding water can be the greatest threat to a roofing membrane. It not only shortens the expected life of the membrane, but it can potentially void the membrane warranty.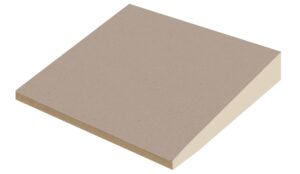 When a low-pitched roof surface will not permit efficient drainage, tapered insulation provides an effective and economical solution. When properly installed, it can extend the life of the roof assembly by eliminating problems associated with ponding water.
Tapered insulation provides a gradual low slope to your roof surface, providing positive rooftop drainage.  It can be used for built-up, modified bitumen, and some single ply roofing systems.   Improvements in roofing technology have resulted in products that are environmentally friendly and can be made from recycled materials.
Talk to a qualified roofing contractor about whether tapered insulation is a good option for your roof.
Robert Andrews – 757-399-3066 – service@andrewsroofing.com