Having your roof collapse can be an unexpected nightmare.
A collapse can happen during any time of the year, but with the weight of heavy snowfall in recent years, it is best to make sure your roof is in good condition to withstand the elements.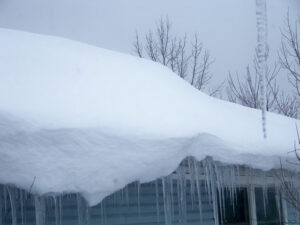 Snow-related collapses can be caused by heavy amounts of snow accumulation on any type of roofing. One cubic foot of dry snow weighs approximately 6 to 8 pounds, while packed snow and/or ice can weigh even more. Other forms of precipitation can compound the problem if moisture from rain or sleet has been absorbed into the roof.
Flat roofs and lower sloped roofs tend to be at greater risk because they will accumulate larger amounts of precipitation.
Major warning signs should be addressed immediately by contacting your local roofer. Those signs include:
Sagging sections of exterior shingles or interior ceiling.
Severe/repeated leakage
Cracks in the exterior masonry
Bends, ripples or deformities in the roof supports, framing or structure
Sprinkler heads that have dropped below ceiling tiles
Doors or windows that are difficult to open or pop open on their own
Bent or bowed utility pipes or conduits at ceiling
Should you notice any of these conditions, contact Andrews Roofing for a free consultation with one of our estimators. We have a 24 hour answering service that can receive emergency calls and allow us to dispatch repair teams.
Regular maintenance and inspection of your roof will help you identify any type of roof damage and prevent a collapse if fixed in a timely manner. Some preventative maintenance tips include:
Removing debris, mold and algae accumulation, which can hold moisture
Keep drains, gutters and downspouts clear of leaves, dirt and debris so that drains can flow freely
Have roof problems repaired when they are discovered to prevent any further damage.
Remove any excessive amounts of snow from the roof (consider hiring a professional).
Robert Andrews II
Office: 757-399-3066
Email: service@andrewsroofing.com