In preparation for Hurricane Joaquin and any other tropical storms that may crop up this year, there are many ways to prepare yourself and your family should you find yourself in an emergency situation.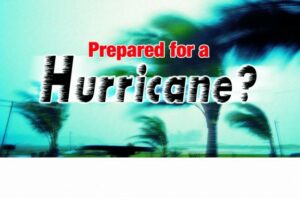 Here are a 12 tips to remember:
1. Have an evacuation plan.
2. Watch and beware of storm surges/potential flooding locations.
3. Avoid driving in water when you do not how the depths.
4. Check your disaster supplies, such as food, medicine and water. You ideally need a 3-7 day supply of food and 1 gallon of water per day per person. Have medicines ready for 7-days.
5. Make sure you have candles and flashlights, as well as back up batteries.
6. Fill your car's gas tank.
7. Secure anything that could be picked up by the wind, such as bicycles and lawn furniture.
8. Turn your refrigerator to the coldest setting so that if the power goes out, the food can remain cold for a longer period of time.
9. Have a multi-purpose tool handy.
10. Have cell phones charged.
11. Have a generator available if possible.
12. Set aside your homeowner's warranty contract and contacts in case any damage is sustained to your property. Take pictures of any valuable possessions that may have been omitted from your homeowner's policy in the event that damage is incurred.
Should you sustain any damage to your roof, please do not hesitate to contact us at 757-399-3066. We do have a 24-hour emergency service response if a call is placed outside of normal office hours. Stay safe!
Robert Andrews, II
757-286-7400
service@andrewsroofing.com